Avoniel Distillery, Belfast
Founded 1882, closed 1929
Only little information exists about Avoniel Distillery. When Alfred Barnard visited the new built Distillery in 1886, he was turned away by the then proprietor William Higgin.
However, it is known that Avoniel was a Grain Distillery whose 2 Coffey Stills produced around 850,000 gallons of Whiskey per Year. Two Pot Stills were installed around 1908, when Avoniel was already part of the United Distilleries Co. (UDC) Ltd., which also included two of the Derry Distilleries and Connswater Distillery in Belfast, and was founded in 1902.
Badly hit in the years of the early 20th Century, UDC was taken over by DCL of Scotland in 1922, which almost immediately shut down the plants. Avoniel produced until around 1929 when it, too, closed for good.
The Distillery buildings were neglected for decades and finally demolished, the last ones as recently as 1990.
The Irish Distillery Ltd., Connswater Distillery, Belfast
Founded 1886, closed 1929
The construction of Connswater Distillery was not yet finished when Alfred Barnard visited it in 1886. He noted the technical advancement and the Victorian red brick buildings.
The Distillery was a joint venture of two Belfast blenders and merchants, Kirker, Greer & Co., Ltd., and Mitchell & Co., Ltd., and a Belfast Distiller, James Wilson & Son. It stood on a 12-acre-site and produced in its heyday 2,000,000 gallons of Grain Whiskey, distilled in two Coffey Stills.
Connswater Distillery joined UDC in 1902 and was their biggest single production unit. UDC could produce well over 6,000,000 gallons of grain and 1,000,000 gallon of Pot Still and Malt Whiskey. With the blending facilities of Watt's, Kirker, Greer, and Mitchell's, and their strong retail marketing, UDC was quite a force in the Irish and World Whiskey Market.
UDC's position weakened in the 1920s and it was taken over by Distillers Co. Ltd (DCL) of Scotland who, to save their own sales, shut down the UDC plants almost immediately.
Connswater closed around 1929. Most of its buildings have survived and are used by a Tobacco firm today.
Dunville & Co., Royal Irish Distilleries, Belfast
Founded 1868, closed 1938
Royal Irish Distillery was founded in 1868 by William Dunville, who built it on a large scale: In Barnard's days, the Distillery produced some 1,500,000 gallons of Whiskey per year, which rose to 2,500,000 gallons by 1890, all pouring from Pot Stills. A Coffey Still was installed around 1900, increasing the output even further.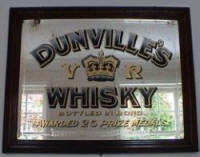 Dunville also operated a blending firm in Belfast, and its Whiskeys, most notably "Dunville's" won several medals at international competitions. In its heyday, Dunville acquired Bladnoch Distillery in the South of Scotland. He died in 1910 as a wealthy man, leaving 1,000,000 Pounds in his will (50,000,000 Pounds worth today).
The company went to his son and later his grandson, Robert Dunville. He managed to weather the poor 1920s which saw World War I and US Prohibition with good sales and strong finances.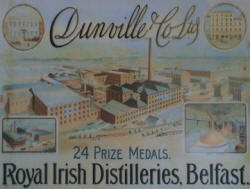 However, when he suddenly died in 1931 he was the last Dunville and there was no one with his drive and commitment to succeed him. After poor management in the following years, the company approached DCL of Scotland in 1935 and proposed a takeover as a going concern. DCL rejected, as they had little faith in the future of Irish Whiskey, and Royal Irish Distillery decided to sell up and close the company in 1936. It took more than 12 years to dispose of the stock and other assets. The Distillery buildings have been almost completely demolished.
In 1879, workers of the Distillery formed the Distillery F.C. which was one of the best teams of the Irish League around 1900, and still exists today.