Today, the company states 1780 as the year the distillery was founded. However, in the 1802 excise return (where all the legal Distillers appeared), only two names are mentioned as operating Distilleries in Bow Street and Smithfield, respective: Edmund Grange and John Stein. Shortly thereafter, John Jameson must have acquired and expanded them, and in 1810 he named the company John Jameson & Son. John's wife was a member of the Haig Family, one of the oldest names in Scotch Whisky. His Son, also named John, later became owner of Bow Street Distillery, while another one, William, ran Marrowbone Lane Distillery.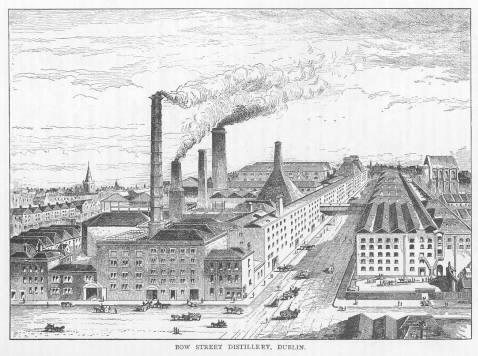 John Jameson's Bow Street Distillery in 1886
By 1886, the distillery had expanded again and occupied a 5-acre block between Bow Street, New Church Street, and Smithfield Market. Its annual output reached 1,000,000 gallons (4.5 Million Litres) of Pot Still Whiskey. Process water was drawn from wells under the distillery site. An oak forest from Celtic times had stood there and was said to give the produce special quality. 25,000 casks of Whiskey matured in the Distillery's warehouses, 6,000 gallons of duty-paid whiskey were ready to be sold at any given time.
Bow Street Distillery never utilised Patent Stills to produce Grain Whiskey for blending. Nevertheless, Jameson grew to become the best and most famous distillery in the United Kingdom (at the time including Ireland).
In 1963, "Crested Ten" was introduced to compete "Power's Gold Label" and "Paddy", while only as recently as in 1968, the company started selling Jameson in bottled form. Until then, the Distillery sold its produce only by the cask to publicans and bonders.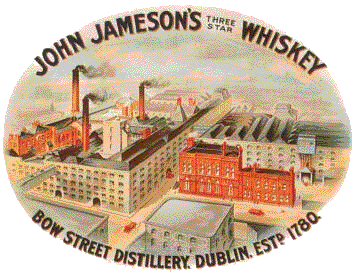 In 1966, the three remaining distilleries in the Republic of Ireland, Jameson, Power's, and Cork Distilleries Co. formed United Distillers of Ireland (later renamed Irish Distillers Group), to successfully compete in the international spirits market. Production in Bow Street ceased in 1971, and moved temporarily to Power's Distillery in John's Lane, and eventually, after construction had been completed in July 1975, to the new IDG complex in Midleton, Co. Cork.
In 1998, the remains of Bow Street Distillery were transformed into a Museum and Visitor Centre. The IDG main offices are located right next to it. Much of the old site is still visible today: The old Chimney is used as a viewing tower, the buildings have been converted into apartment houses and a Capuchin Friary. The old Kilns and Warehouses can still be easily identified.