1608 marks the year that a licence to distil was granted by the King to a Thomas Phillipps for the area of Bushmills and Coleraine. Such licences were granted all over Ireland at the time.
While distilling in the Bushmills area is reported to have begun as early as in the 15th century, Bushmills Distillery was not instituted until 1784, when the company was first recognised as a legitimate Distiller with an annual output of 10,000 gallons of Whisky.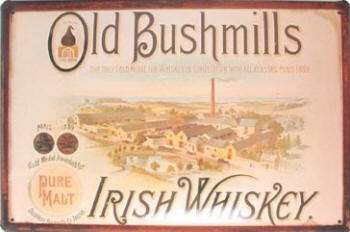 The company's growth was limited over the next 100 years, as Alfred Barnard mentions, due to many changes of ownership, it even ceased production at times. When Barnard called in 1885, the Distillery traded as The Bushmills Old Distillery Co., Ltd., and had a moderate annual output of 100,000 gallons of Pot Still Whiskey.
Shortly after it, a fire destroyed a great part of the Distillery, which was then rebuilt and expanded. After it re-opened, Bushmills Distillery produced Malt Whiskey, and rather looked like a Scottish Distillery.
Success and today's fame was still a long way: The company found itself in liquidation in 1895 and again in 1921, but saw better times when Samuel Boyd, a Belfast Wine and Spirits Merchant, bought it in 1923. Under his ownership, Bushmills prospered, expanded, and acquired the nearby Distilleries of Coleraine and Killowen in 1936.
In 1941, during World War II, the company's head offices and Warehouses were hit by bombs, and all documents and a lot of Whiskey were destroyed by the following fire.
After the war, ownership changed frequently: In 1946, Bushmills was taken over by Isaac Wolfson, textile magnat, who allowed the Boyd Family to handle day-to-day operation, and also introduced the Bushmills Brands into new markets.
In 1964, Bushmills was acquired by Charington, UK based brewers, and off-licence and pub owners. Charington moved bottling from Coleraine to Bushmills, and introduced blending.
In 1972, finally, Bushmills joined Irish Distillers Group, who achieved control over the Distillery by buying Bushmills shares from Canadian Distillers Seagram. Bushmills has, since then, stayed there, though the group itself was taken over by Groupe Pernod-Ricard in 1989.
The changes proofed very fortunate for the Distillery, for Bushmills is today one of the most famous and recognised Names in Whiskey. The Distillery today produces a range of Single Malt and Blended Whiskeys, Malt Whiskey production is around 500,000 gallons per year, distilled in 9 Pot Stills.
There is also an attractive Visitor Centre open all year, more information of which can be found here.