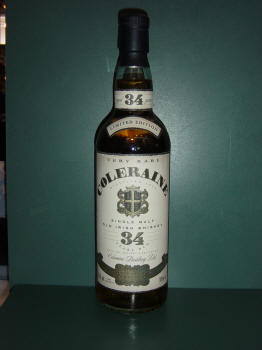 This Whiskey comes indeed from the Distillery in Coleraine , Co. Derry, the once greatest Irish Malt Distillery, and should not be confused with the Blend available today, which is distilled at the nearby Bushmills Distillery.
This Whiskey has been distilled at Coleraine in 1959, five years before distilling would cease there. After maturing 34 years in cask, 396 bottles were produced by Irish Distillers in 1993.
The label spells Whiskey with the "e", as opposed to Coleraine's common practise.
It is not known how many bottles are still around today, but it can be safely assumed that this is quite a rarity.
The whiskey is bottled at Cask Strength with 57 per cent abv and sells at around 1,250 Euro.