Coleraine Distillery was established in 1820 when it was converted from an old mill in Newmarket Street. It was one of two Malt Distilleries in Ireland and quickly built up a high repution, for in 1845 it delivered the London House of Commons and therefore put "HC" on the labels of its bottles.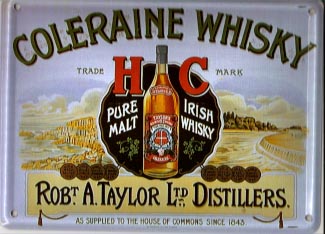 Early 20th Century Coleraine Poster. Note the spelling of Whisky.
Alfred Barnard who visited Coleraine in 1885 noted "in all our wanderings through Erin's Green Isle, for cleanliness, order, and regularity, we have seen no distillery to beat this". At the time, Coleraine Distillery produced 100,000 gallons of triple-distilled Malt Whisky (always spelled without the "e") and its proprietor was Robert A. Taylor. There was also a bottling plant at the premises, and no whiskey was bottled until it was ten years old.
After Taylor had died in 1902, the distillery fell into decline and was silent for most of the 1920s. It was bought by the Boyds of Bushmills Distillery in 1933 and distilling continued in 1938 for a short period before World War II and the shortages of barley stopped production again.
After the war, a new patent still was installed at Coleraine Distillery. Sadly, last distilling took place in 1964, and the Coleraine brands disappeared for the benefit of Bushmills, from then on the only Malt Whiskey Distillery in Ireland.
Grain Whiskey production for the Bushmills Blends was transferred to Midleton, Co. Cork, when Bushmills joined the Irish Distillers fold in 1972, and bottling was transferred back to Bushmills, so Coleraine became obsolete and closed its doors for good in 1978, "a sad loss, not only for distilling in Ulster, but for the Irish whiskey industry in general", as Jim Murray mourns.
The "handsome gateway" through which Barnard entered the premises in 1885 still exists, also the walls and a few buildings.
There was a second distillery in Coleraine at Captain Street, in the suburb of Killowen, which had been established in the early 19th century and was silent for the next hundred years until bought and reactivated by the Distillers Finance Corporation, a UDC subsidiary. DCL, who took over UDC in the 1920s, sold it to the Boyds of Bushmills in 1937 who used the warehouses for their Bushmills and Coleraine Whiskey. Distilling never resumed at Killowen in the 20th century and the premises were demolished in 1969.