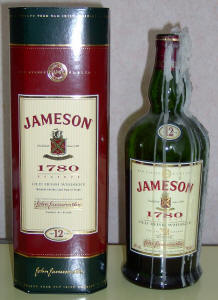 Jameson 1780 was introduced by IDG in the mid 1980s as the premier Jameson brand.
The youngest Whiskeys in this blend are 12 years old, the oldest date back to the late 1970s. The Pot Still Share is 75 per cent, and a third of the casks used are Ex-Sherry. With its Pot Still and Sherry character, it is said this Whiskey is the closest to the old Bow Street Distillate.
This Whiskey is hardly found outside Ireland. It is bottled at 40 per cent abv.
Jameson 1780 has recently been replaced by Jameson 12 Years Old.