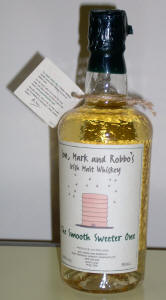 Jon, Mark & Robbo's Easy Drinking Whisky Co. Ltd. is a blending firm based in Perthshire, Scotland which was founded in 2002.
They currently have three products on the market, two Scotch Malt Whiskies, The Rich Spicy and the Smokey Peaty One, and one Irish Whiskey, The Smooth Sweeter One.
As the company reveals, this Whiskey was distilled at Cooley Distillery and combines several specific vintages.
The Smooth Sweeter One is bottled at 40 per cent abv, and is available in 50 cl bottles at specialist stores throughout UK and Ireland.