The Distillery in Jones Road was founded in 1872 by a consortium of 7 businessmen, the Dublin Whisky Distillery Co., Ltd., and erected within one year on a 7-acre-site on the banks of the river Tolka, starting the first mashing in 1873.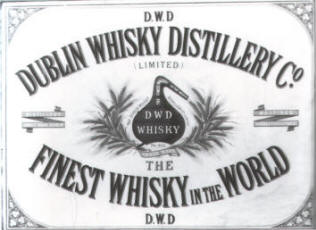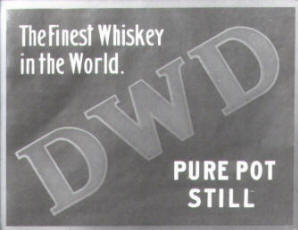 Two advertisements for Jones' Road Distillery. The latter (Whiskey with "e") is probably a newer reproduction.
The Distillery had nothing but the best and latest in equipment, also, the best men in the industry were recruited by offering them good financial incentives.
Unfortunately, it was built when the golden age of Irish Whiskey was about to fade away. It never reached its target capacity of 800,000 gallons (3.5 Million Litres) annual production, and joined the Dublin Distillers' Co., Ltd., in 1891, less than 20 years after its foundation.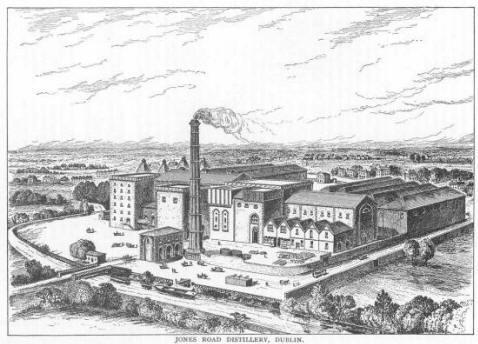 Jones' Road Distillery in 1886
The DDC, also including the Distilleries of Thomas Street and Marrowbone Lane, never fulfilled their potential: Excess capacity, no strong brands, and collapsing markets led to the closure of two of its distilleries in 1923, and the last one in 1926, though some sources report of Whiskey distilled in Jones Road in 1942. However, it took nearly 20 years to dispose of all the DDC stocks, and the company finally dissolved in the late 1940s.
Today, the site stands very much intact: The Granary, Corn house, Mash house, Warehouses and Stables are clearly recognizable. The buildings are currently being converted into appartments, called the Distillery Lofts. Distillery Road, leading to the Site from Clonliffe Road, also reminds of the former Distillery here.