The Distillery in the small Westmeath town of Kilbeggan was founded in 1757 by a Matthew MacManus. Predating the foundation of Bushmills Distillery by 27 years, it is regarded today as the oldest Distillery in Ireland still involved in Whiskey production - Cooley Distillery now using it for Warehousing and as a cooperage.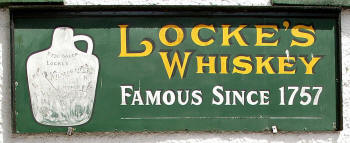 Little is known about the Distillery until it was acquired by John Locke in 1843. Under his ownership, the company flourished. He installed a big Water Wheel and other equipment over the years and expanded the site which reached 5 acres and produced 160,000 gallons of Whiskey by the mid 1880s.
Locke's Pure Pot Still Whiskey was sold in a ceramic jar - a tradition that lives on as a Cooley Brand nowadays - and was very popular in Ireland, the United Kingdom, and its colonies.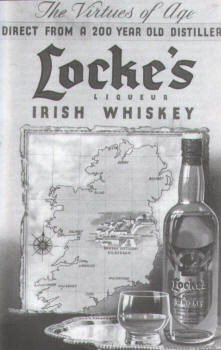 The Distillery survived the economically hard times of the 1920s, which also saw the deaths of the founder's two sons, John Edward and James Harvey Locke. Distilling ceased between 1924 and 1931 decimating the company's financial position, and control and day-to-day operation were passed out of family hands.
In 1947, James Harvey Locke's two sisters, then directors of the company, decided to sell it as a going concern, run down though, but stocked with 60,000 gallons of valuable Whiskey. The deal was a fraud and lead to the "Locke Scandal" which effectively damaged the Distillery's good reputation.
Distilling continued in Kilbeggan, though aged plant and equipment regularly broke. Locke's were now indebted, but still invested in new equipment and restoration. When the Irish Government raised spirit duty dramatically in 1952, Locke's suffered badly from the resulting decline in consumption. They were not able to release from bond Whiskey ordered for Christmas the following year, and ceased distilling again. By 1958, the Distillery had closed.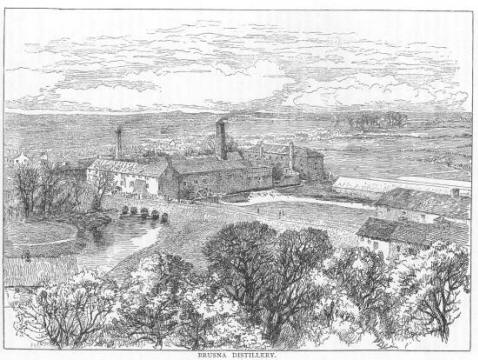 Locke's Brusna Distillery, Kilbeggan, in 1886
In the mid 1980s the Distillery complex was restored by local enthusiasts and turned into a museum. The Water Wheel and Steam Engine were repaired and are working to this day.
No owner of the Distillery after 1958 had ever failed to pay the Distillery License fee of £5 per Year, so Cooley was able to restore the old Warehouses and use them for maturing their Whiskeys. Thus, today, Kilbeggan is a vital part in the Irish Whiskey Industry, and the old Premises house the beautiful "Locke's Distillery Museum" which is well worth a visit.