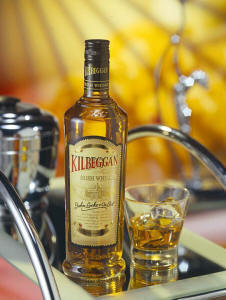 Kilbeggan was introduced as a brand by John Locke & Co. around 1900 and distilled at the River Brusna Distillery in the Westmeath town of the same name.
The Whiskey was Pure Pot Still and very famous beyond the Irish borders but disappeared in the 1950s when the company ceased Whiskey production.
The Kilbeggan Brand, along with Locke's, was acquired by Cooley shortly after their foundation, and relaunched in 1994 as a Blend.
The Whiskey has won numerous medals in international competitions and is described by Jim Murray as "a highly delicious and dangerously more-ish Whiskey which will remain in the Taste-buds".
It is bottled at 40 per cent abv.