Marrowbone Lane Distillery was founded around 1750, and in 1780 acquired by John Stein, a Scotsman who also operated a Distillery in Bow Street at the time.
Around 1800, Bow Street Distillery was taken over by John Jameson, and Marrowbone Lane Distillery by his Son William who also married one of Stein's Daughters.
Despite relation to the Jameson's of Bow Street, the two companies were nothing else than Business rivals, and today, the name of William Jameson and Marrowbone Lane Distillery is long gone and forgotten.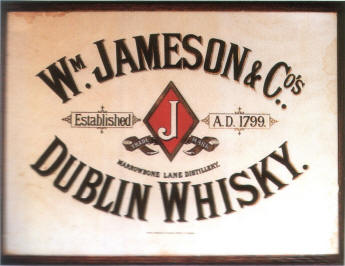 Old Advertisement for Wm. Jameson & Co.
However, William Jameson's company grew from an output of 30,000 gallons a year in the beginning, to become one of Dublin's Big Four, with the site covering 14 acres, and production being 900,000 gallons (4 Million Litres) of "Dublin Whisky" annually, mainly exported to Australia, Canada, and the US. Its two mash tuns were the largest in the United Kingdom, with a 100,000 gallons capacity each, at the time when Alfred Barnard visited the site in 1886.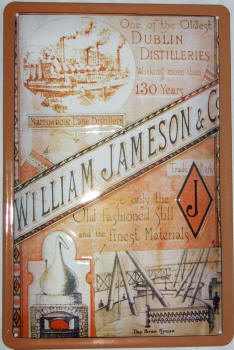 Shortly thereafter, the company changed its name into Dublin Distilling Co., Ltd. and, in 1891, joined the Dublin Distillers' Co., Ltd., a huge consortium, including the Distilleries of Jones Road and Thomas Street which, however, failed to succeed. Marrowbone Lane Distillery kept on producing until its closure in 1923 due to the market collapse and a large overstock.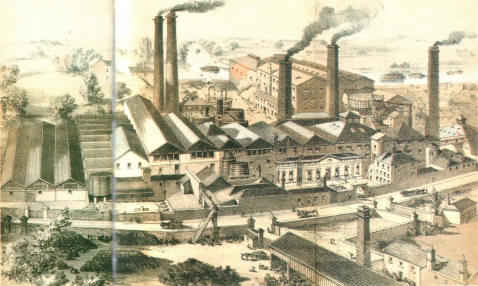 Wm. Jameson's Marrowbone Lane Distillery in 1880
Today, very few vestiges of the site have survived. Marrowbone Lane itself still exists, also a few walls and buildings in the nearby streets. The Maltings Business Park and The Malthouse, a residential area in Marrowbone Lane, remind of the Distillery that once stood here.