Midleton Distillery was founded in 1825, when brothers James, Daniel, and Jeremiah Murphy bought and converted an old woollen mill.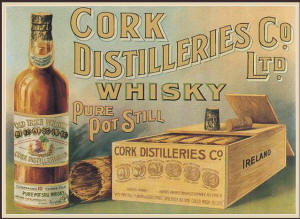 Old Advertisement for Cork Distilleries Co.
The 1823 Excise Act just having passed, the brothers spent quite an amount of money expanding the site and building a Distillery on a large scale: Murphy installed the world's largest pot still in his Distillery, holding 32,000 gallons. There was also a 6 storey high granary and 4 storey high maltings. By the mid 1830s the company employed 200 men, and annual output was 400,000 proof gallons. The company now traded as James Murphy & Co.
In the 1850s, two sons of the founder left to start a Brewery in Cork, which still produces Murphy's Stout today.
In 1866, James Murphy, another son of the founder, proposed to merge Midleton with the then 4 Cork Distilleries - The Green, Watercourse, North Mall, and Daly's - who backed the idea of one strong financial and operative unit and formed Cork Distilleries Co., with Murphy as first Managing Director, in 1867.
The group was tightly managed and ahead of its time. Production was rationalized, duplication avoided, labour redundantised. Whiskey distilling was concentrated in Midleton and, until 1920, North Mall, other property were used for offices or sold. Thereby, the company managed to survive the setbacks of the early 20th century and was one of only three Distilleries left in the Republic of Ireland in 1966, which were to become the Irish Distillers Group.
Unchanged for nearly a century, Midleton Distillery kept producing Whiskey until 1975, when distilling moved to the new IDG Plant next door. Since then, the "Old Midleton Distillery" has been mothballed and partly restored. It is today one of the most beautiful and interesting visitor attractions in Ireland.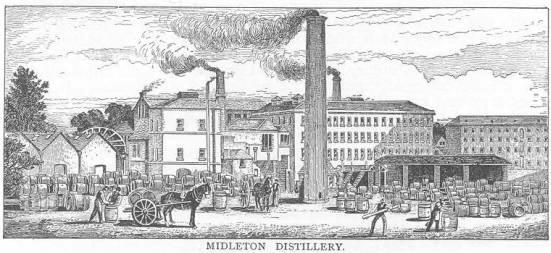 Old Midleton Distillery in 1886
Interestingly, Irish Distillers Group labelled it "Jameson Heritage Centre", though John Jameson never set food into it, and can rather be seen as a competitor to Midleton Distillery.