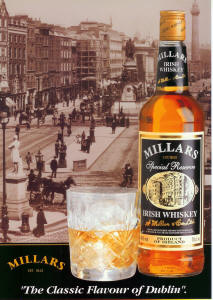 First introduced in 1843 by Dublin based Adam Millar & Co., this Whiskey was known as Millar's Black Label and was successfully marketed until the mid 1960s when the company disappeared.
The brand was relaunched in 1994 by Cooley Distillery who renamed it into Millar's Special Reserve after a certain Scotch Whisky Blender objected the similar brand name.
The blended Whiskey is double-distilled and matured almost entirely in Ex-Bourbon Casks. Its taste was described by Jim Murray as "Very malty start followed by a very powerful grain which is fruity. Not a light Whiskey at all."
The Whiskey won two bronze medals at international competitions in 1996.
It is bottled at 40 per cent abv.