Monasterevan Distillery was founded in 1784 by John Cassidy, who bought one of three small Distilleries operating in the town at the time. The Distillery was to remain with the Family until its closure in the the 1920s.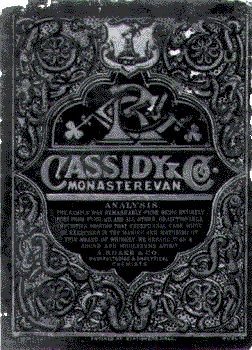 Cassidy quickly restored the Distillery which hadn't been used for a while, but it burned down completely in the following year, and needed to be rebuilt from scratch.
Production figures were moderate. The Distillery expanded after the 1823 excise act, and reached an annual production of 165,000 gallons of proof Whiskey by 1833, and 200,000 by 1887, when Alfred Barnard visited the town and met John's Grandson, James Cassidy, the owner at the time.
The premises covered 10 acres with a road frontage of 300 ft - most of which is still visible today - and 17 Warehouses held 7,000 casks of Whiskey in bond.
The Distillery sold 80 per cent of its make locally, only 20 per cent went to Merchants and for export. Since its independence of the UK and US markets, the company would most certainly have survived their collapse in the early 20th century, if not the family were hit by unfortunate destiny. By 1918, all male family members had died and the business was passed to Gwendella, widow of Robert Edward Cassidy who lead the company until his death that year.
The business didn't go well and the company ultimately went into voluntary liquidation in December 1921.
The buildings laid idle for a decade and were bought in 1934 by the Engineering firm of Samuel Holmes. His name still decorates the walls of the old warehouses and grain store which can be easily identified standing along the N7 Dublin to Limerick Road.