North Mall Distillery was founded in 1779 by brothers Thomas and Francis Wise on the site of an old Dominican Friary.
After the Excise Act of 1823 which cut the cost of duty and distilling licenses to fight illegal Whiskey production, the company expanded heavily for in 1833 it had reached an annual output of 400,000 gallons (1,8 Million Litres) of "Wise's Cork Old Pot Still Whisky" which was - unusually at the time - matured for at least 5 years.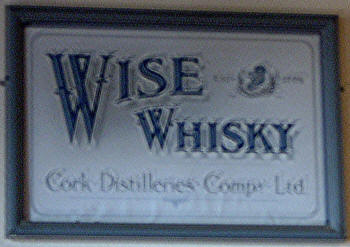 With the site covering enormous 23 acres, the company became the largest Distillery in Cork City and one of the most famous in Ireland.
Along with the other 4 Distilleries in the Cork Area - Daly's, The Green, Watercourse, and Midleton - North Mall joined the Cork Distilleries Co., Ltd., in 1867 which proved to be a big player in the Irish Whiskey Industry, surviving the hard times of the early 20th Century, and still existing today as part of the Irish Distillers Group.
Whereas the smaller CDC Distilleries were closed after the merge, North Mall continued production, and even increased its output to 500,000 gallons per year by the mid 1880s.
Unfortunately, North Mall Distillery was destroyed by a fire in 1920, and due to the economically difficult times, CDC decided not to rebuild but to concentrate all distilling in the plant at Midleton, Co. Cork.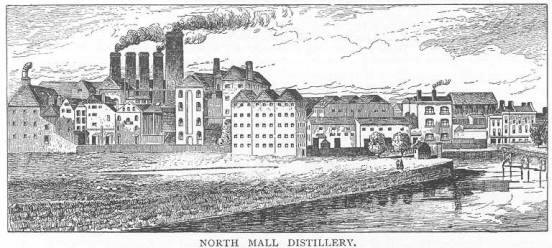 CDC's North Mall Distillery in 1886
Since then, North Mall Distillery has been used as a Bottling Plant for CDC and after 1966 for IDG.
Very much of the site can be seen today: The remains of the Chimney built in 1877, a few Warehouses in Sunday's Well Road, the former Wise Residence in North Mall, and the beautiful maltings complex across the river Lee, which is used by University College Cork.