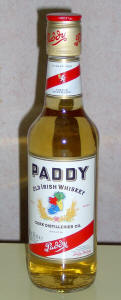 This Whiskey was first known as "The Cork Whisky Make" or "Cork Distilleries Co. Old Irish Whisky" and was distilled at Midleton Distillery.
Traditionally, the Cork Whiskies were spelled without "e", but Irish Distillers Group decided to adjust it to their uniform spelling of "Whiskey".
In the 1920s, Cork Distilleries Co. had a Sales Representative named Paddy Flaherty who successfully advertised their Whisky in such a manner, that publicans started ordering "Paddy Flaherty's Whisky". The company, profiting from this popularity, printed his name on the label and, ultimately, named the Whisky "Paddy".
Today, Paddy is a blend of Pot Still and Single Malt (together making up more than 50 per cent), and Grain Whiskeys distilled in Midleton and Bushmills. It is regarded as the softest of the Irish Whiskeys.