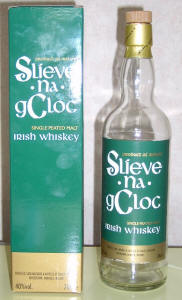 The gaelic name means Stoney Mountain and refers to a hill near Riverstown, Co. Louth, where this fine Whiskey is produced by Cooley Distillery.
Slieve na gCloc was introduced in 1999 and is only available at the off-licence chain Oddbins and a few online stores.
Not unlike Connemara, it is a double-distilled, peated Single Malt Whisky which is bottled at 40 per cent abv.