Peter Roe bought an existing distillery in Thomas Street, opposite the Guinness Brewery, in the year 1757. For years, being quite a small enterprise, it's been struggling from the 1779 Distilling Act.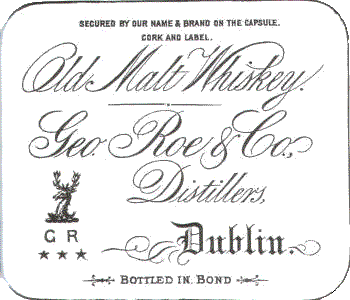 After 1823, the company expanded heavily and, by means of takeovers and acquisitions, the site reached an enormous size of 17 acres, covering the ground between Thomas Street and the quay beside the Liffey.
In its heyday, the distillery's annual output was 2,000,000 (9 Million Litres) gallons of "Dublin Pot Still", mainly exported to England, Canada, the US, and Australia.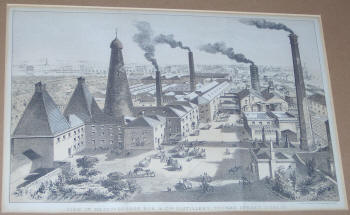 Such was the wealth of the Roe Family, that Henry, the owner at the time, sponsored the huge amount of 230,000 Pounds (today worth 23 Million Pounds) for the restoration of Christ Church Cathedral in Dublin between 1871 and 1878.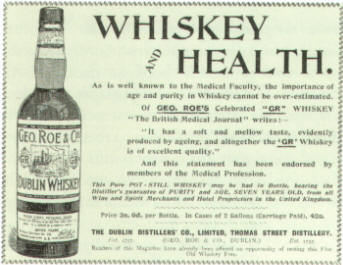 In 1891, George Roe & Co. joined the Dublin Distilling Co. of Marrowbone Lane, and the Dublin Whiskey Distillery Co. of Jones Road, to form The Dublin Distillers' Co., Ltd., a powerful consortium with a potential annual output of 3,500,000 gallons (15.5 Million Litres) of Whiskey. However, the enterprise struggled from the beginning. All three companies produced Pot Still Whiskey only, thus sharing, and competing in, the same market, and neither of them had the reputation of Jameson's or Power's Whiskies. The company continued distilling during the difficult years of the early 20th Century and, when the markets collapsed in the 1920s, it was grossly overstocked. All three distilleries had to close by 1926. It took nearly 20 years to sell all the whiskey in stock, and the consortium dissolved after World War II.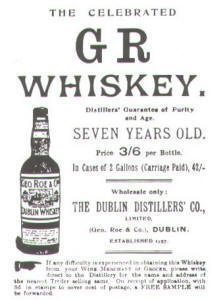 Today, the former mill of the site, St. Patrick's Tower, built in 1757, and a few Warehouses and Walls, are the only remaining signs of what was once the largest and most productive distilling complex in Ireland. The site now belongs to the Guinness Group.