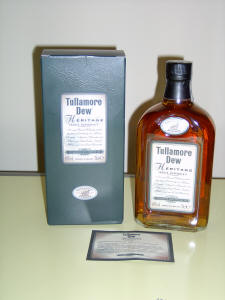 Tullamore Dew Heritage Irish Whiskey is distilled by Irish Distillers in Midleton and, as all Tullamore Brands, marketed by Cantrell & Cochrane.
The Heritage was introduced in 2001 to celebrate the opening of the Tullamore Dew Heritage Center in Tullamore, Co. Offaly, which is located in a former Warehouse of Daly's Distillery at the Grand Canal.
It is a Blend of Pot Still, Malt and Grain Whiskeys which were allowed to "marry" for a year before being bottled at 40 per cent abv.
Tullamore Dew Heritage won the Gold Medal and Trophy for Best Irish Whiskey at the 2001 International Spirits Challenge.