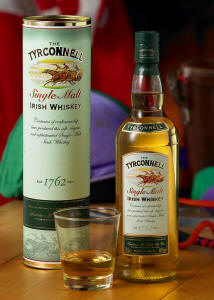 The Tyrconnell was once a brand of A. A. Watt & Co. who owned Abbey Street and Waterside Distilleries in Derry (Londonderry).
The company ceased distilling in the 1920s, was taken over by DCL of Scotland, later closed and demolished. The Watt Family continued marketing The Tyrconnell as a blending company but this business closed, too, in 1970.
The brand was one of the first Cooley acquired after its foundation in 1987, and was first bottled in 1992.
The current Tyrconnell is a vatting of 5 Year-old Malt Whiskeys and is bottled at 40 per cent abv.