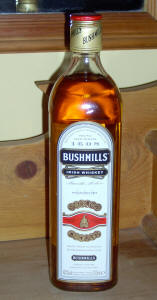 This standard blend, nicknamed "White Bush" for his label, is the lightest of all Bushmills Whiskeys and has been around for at least 60 years.
It consists of 50 per cent Malt Whiskeys from Bushmills, aged 6 to 7 years, and 50 per cent three year-old Grain Whiskeys from Midleton.
In tastings, the finish of "White Bush" was described by Peter Mulryan as "very long and quite delicious", but by Jim Murray as "rather bitter and uncompromising".
The Whiskey is bottled at 40 per cent abv.