James Power started his business in 1791 by converting an old hostelry into a tiny distillery with an annual output of 6,000 gallons.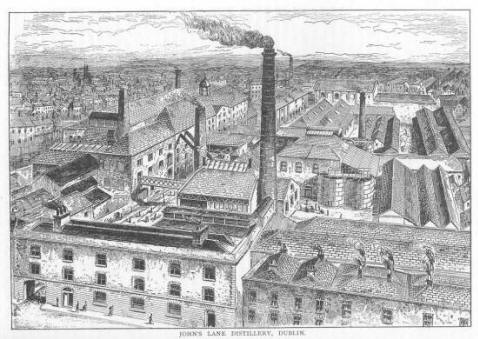 Power's John's Lane Distillery in 1886
After the excise Act of 1823, the distillery grew year by year and, after expansion and rebuilding in 1871, its annual output reached 900,000 gallons (4 Milwith the site covering 6 acres between Thomas Street and Usher's Quay.
The Power's were a wealthy and influential family: John Power, the grandson of the founder, became baronet and laid the foundation stone of the O'Connell National Monument in Dublin, which is still standing today.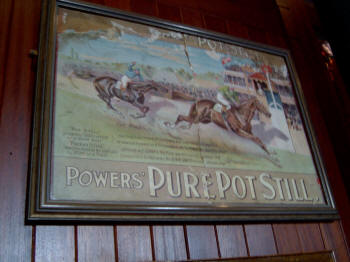 Alfred Barnard visited the distillery in 1885 and, upon tasting Power's Whiskey, he noted "The old make, which we drank with our luncheon, was delicious, and finer than anything we had hitherto tasted. It was as perfect in flavour, and as pronounced in the ancient aroma of Irish Whisky so dear to the hearts of connoisseurs, as one could possibly desire, and we found a small flask of it very useful afterwards on our travels."
Power's were the first distillers to bottle their own produce; "Power's Gold Label" always was and still is the best-selling Whisky in Ireland, while Jameson, its great competitor, was always stronger in the export market. Power's also introduced "Baby Power's" - miniature bottles, an innovation that required law adjustment.
When economic crises took their toll, Power's, along with Jameson and Cork Distilleries Co. - the three remaining Distillers in the Republic of Ireland - united in 1966 and formed what was to become the Irish Distillers Group.
From 1971, for a short time, John's Lane Distillery produced both, Power's and Jameson Whiskey. But in 1976, production moved to a brand new plant in Midleton, Co. Cork, and Power's Distillery was closed.
Today, the old Distillery site hosts the National College of Art and Design. Fortunately, much of it is still visible, including a few warehouses, the former still house, and three pot stills.